VOLUTE™ as a Temporary Solution for a Defective DAF Unit
AMCON started rental unit service in 2020. It is all-inclusive Plug & Play service and can be rented for five days to several months, which can come in handy in many cases:
You don't have a budget for this year to invest in purchasing a dewatering machine, but need a functioning machine now
Your existing dewatering machine is out of order and you need a solution immediately
You need a temporary solution to empty your sludge pond
Your sludge volume has been increased due to an change in your production and you need immediately extra capacity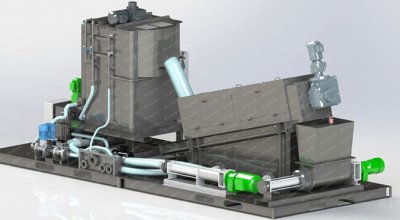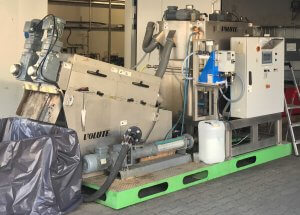 The customer has rented a unit for treatment of raw wastewater from food colors production as a temporary replacement of a non-functioning DAF unit.
The customer is very satisfied with the excellent COD reduction. We were able to reduce by 50% from 17,000mg/l down to 8500mg/l.
This particular customer has decided to extended the rental period by months.
UNIT:
GS-202
Sludge Type:
Production wastewater
COD Reduction Rate
50%

Before: 17,000mg/l

After: 8,500mg/l

Solids Concentration:
0.1 – 1 %
Flow Rate:
5 m3/h (at 1%)
Cake Solids Content:
20 – 30 %
Capture Rate:
> 95 %
Polymer Dosage:
10 g/kg-DS