Takaaki Yamamoto, the founder of a European subsidiary of AMCON INC. handing over the position of CEO
AMCON Europe s.r.o. is a subsidiary of AMCON INC. located in Yokohama, Japan. AMCON Europe, situated in Chrastany near Prague, Czech Republic, specializes on wastewater treatment technology manufacturing with focus on ecological and energy efficient solutions for industrial and municipal wastewater treatment plants.
Takaaki Yamamoto founded the European division in 2011. Nowadays, the company has its own production background and provides its solutions to customers all over Europe and beyond. R&D department is an essential part of the firm constantly developing new modifications and innovations of VOLUTE Dewatering Press. Today, AMCON Europe consists of a team of 35 professionals.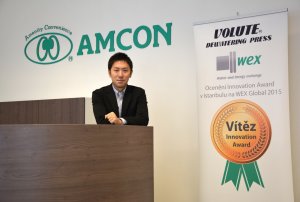 Takaaki Yamamoto has held the title of CEO for nine years; he decided to return to the headquarter in Japan this year to assist with further global expansion.
The position of a new CEO was taken over by Jacek Aliński on 1st June 2020. Jacek Aliński joined the company in 2019 as a COO, he is an experienced leader who embodies company´s values.
For details please contact:
Miloslav Hloušek
Sales Director
Tel.: +420 775 776 606