Durable? What do you think?
Norsk Spesialolje has the largest treatment plant for waste oil in Norway. The waste oil is processed in its facilities at Kambo and in Greenland. After treatment, the waste oil is used as a substitute for heavy fuel oil or as a raw material for re-refining plants. At a re-refining plant, the waste oil is transformed into base oil. This base oil is used by blending companies in the production of new lubricating oil.
Slop oil sludge treatment in Norway
In 2014 they became one of our first customers in Norway when in its plant in Kambo, VOLUTE™ ES-201-SA-CE was installed and commissioned in June. Machine was manufactured in completely standard specification without any additional modifications. Since then VOLUTE™ has operated for more than 28,790 hours (10.11.17) without any issue, overhauling or replacement! Although our recommendation says to replace moving rings in dewatering zone at 10,000 h, rings on this machine are in the middle of its lifespan as observed on the indication groove ring! The customer is very satisfied with the technology and we as a manufacture are proud to have such a nice evidence about durability of our machines.
Did you know?
AMCON Europe participated in the Aquatech exhibition in Amsterdam. Do you know one specific winter sport, which is popular in The Netherlands, Czech Republic and Japan too? Correct, it is ice speed skating, in The Netherlands surprisingly a sport for the masses. A specialty of ice speed skating in The Netherlands is the "Race of 11 cities", or in Dutch "Elfstedentocht" – race on water channels connecting 11 cities with a total length of 199 km.
The thickness of ice has to be minimal 15 cm on the whole track, due to mild winters in last years, the race was completed for the last time in 1997 and since it started in 1909, only 15 races could be organized under regular conditions including the so called "Hell of '63" when only 69 of the 10,000 participants were able to finish the race, due to the extremely low temperatures of -18 °C, powder snow and a harsh eastern wind. Conditions were so horrendous that the 1963 winner, Reinier Paping (winning time: 10:59 hours), became a national hero, and the tour itself legendary. Paping could not make out the finishing line as he was snow blind by the end of the race and many of the contestants had frostbite, broken limbs, and damaged eyes.
For your imagination, in the 1997, there were 16738 participants on start, and 11460 finished the race.
Race winner mastered the track in 6:49 hours.
Because of warm climate during last 20 years there is also a variety of this race with bikes, another popular and beloved sport in The Netherlands.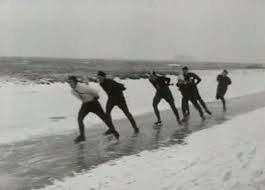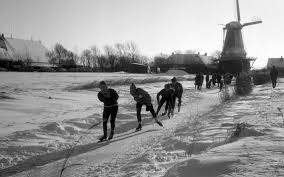 The Water yout 2017 approached its end. Welcome a new year 2018!
Whilst the common New Year's Eve celebrations are still a month away, a group of hydrologists and water specialists commonly start with a new year celebration much sooner. The last day of October brought not only Halloween trick-or-treating, but also the end of a so-called water year, also known as a hydrological year, discharge year or flow year. Therefore on 1st November we gave farewell to the previous water year and welcomed a new water year 2018!
The end of something old is the beginning of something new and the beginning of something new always deserves a celebration, and so many hydrological and water institutions in the Czech Republic celebrate 31st October as ´Hysil´ or ´Hydrological Silvestr´.
The full article can be read here.
Last but not least, the CHEM.ENGI would like to wish you joy, happiness and reasonably wet conditions in the new Water Year 2018!
General news
Nowember was a particularly busy month for AMCON Europe, we started off with the official launch of the new GS Volunte Dewatering Press at aquatech at the beginning of the month. Thank you to all who took the time to visit our stand. We also had the opportunity there to launch our brand new VR system, this allows all visitors to get up and close and personal with the VOLUTE™ and even virtually get inside it. It was very well received and meant that people who had never seen VOLUTE™ before were able to grasp the concept much quicker. It was also fun for our existing customers to take a virtual tour of the All-in-one containerized solution that we offer, maybe you can remember in last months newsletter about the fish application in Norway.
Aquatech was a very busy 4 days with AMCON more than doubling the number of visitors from 2015, we picked up many new contacts and a lot of new projects for us to deliver.
From Aquatech it was straight off to Rimini in Italy for the Ecomondo exhibition. Our partners in Italy, N.T.W group exhibited the GS-352-4. This was the first time that VOLUTE™ had been on display in Italy and N.T.W did a fabulous job. The entire team worked tirelessly from start to finish during the event. The impact of the new GS VOLUTE™ was fantastic with a huge number of visitors, with more than 15 installations in industrial and municipal market in Italy I think that N.T.W group can expect many more projects to follow off the back of Ecomondo.
The work won't just finish there for us, we have a very busy time in December meeting the end year of orders and then it's 2018. We have an open day in January at our office in Prague and will be exhibiting in Abu Dhabi and then into February we will be hosting our second AMCON conference.