Succeeded in "zero-emission" of sludge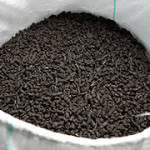 Succeeded in "zero-emission" of sludge
Problem
Previously, sludge was vacuumed out in this treatment plant without being dewatered; however, the cost for sludge treatment was huge. Thus, aiming at "zero-emission" of sludge, fermentation of the sludge was being considered.
AMCON's offer for a solution
They introduced Dell Compo, which can treat sludge totally from dewatering to fermentation. The fermented sludge is now distributed to local residents as free fertilizer, which in fact is earning an excellent reputation. A farmer who cultivates chrysanthemums favorably tells that the stalks grow thicker and longer with this fertilizer. The sludge that was formerly treated outside the region with huge costs is now completely recycled within the region.