Global Leader Of MBR Technology Specifies VOLUTE™!
Hi Star Water Solutions, an engineering and operation company located in the United Arab Emirates builds and operates MBR plants in the Gulf region for the local governments. Their mother company is a global leader of MBR Technology which is known across the world.
They have recently constructed another MBR Plant in the Gulf region in middle of rocky desert and they have selected to install VOLUTE™ Dewatering Press ES-202.
Sludge was coming from their patented MBR technology / process and we have managed to reach 17% DSC and solids capture rate of 98%. Client was very happy with another job done by AMCON VOLUTE™!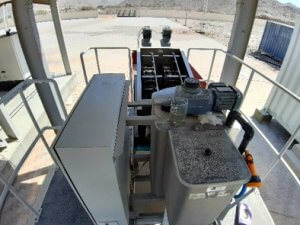 Conditions
| | |
| --- | --- |
| Model: | ES-202 |
| Sludge Type: | MBR Activated Sludge |
| Solids Concentration: | 1.7 % |
| DS Throughput: | 44 kg-DS/h |
| Cake Solids Content: | 17 % |
| Solids Capture Rate | 98 % |