GS-202-4 pilot tested in United kingdom
AMCON has debuted the VOLUTE™ Dewatering Press GS Series to the United Kingdom.
AMCON Europe and Evergreen Water Solutions recently conducted a pilot test with GS-202(1)-4 in Goole Sewage Treatment Plant in the UK which belongs to Yorkshire Water.
Type of sludge is Mixed Lamella Primary Sludge, Surplus Activated Sludge or Waste Activated Sludge and some Imports from the surroundings – Municipal Mix.
Here are the achieved results:
| | |
| --- | --- |
| Feeding Sludge Volume | 2.82m3/h |
| Sludge Concentration | 9,200mg/liter |
| Throughput | 25.94kg-DS/h |
| Solids Capture Rate | 96.40% (332mg/liter) |
| Cake DS Contents | 23.61% |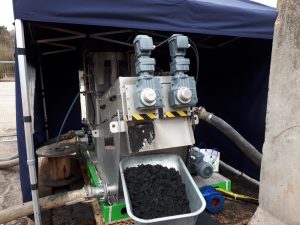 VOLUTE™ Dewatering Press GS-202(1)-4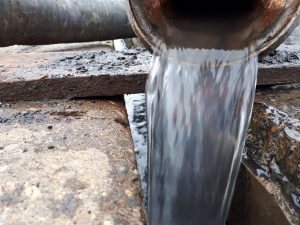 Filtrate: Thickening Flocculation Unit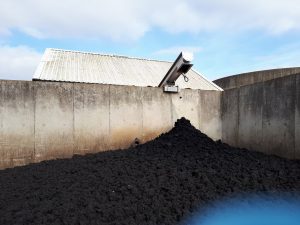 Dewatered Sludge Cake
The GS series has kept all the advantages which the original ES series offers, and in addition to that, it is equipped with our new invention, the "Thickening Flocculation Unit" or "TFU".
The TFU thickens the sludge during solid liquid separation phase with polymer floculants.
By the time it enters the dewatering phase, higher concentrated flocks are created and as a result, higher cake DS% or higher throughput can be expected compared to the conventional models.
Should you be interested for more information, please feel free to inquire with us.
Intensification of our R&D municipal WWTP in Rudná, CZ
Several months ago we were asked for help to improve waste activated process in Rudná WWTP which is also our R&D site.
Thanks to installation of new technology for internal recirculation we have achieved significant reduction of Amonia-Nitrogen content in WWTP´s effluent.
Furthermore thanks to implementation of correcting measures in process management we have achieved reduction of Suspended solids content as well.
Effluent water from Rudná
Unusual Easter customs in the Czech Republic
While the Christians are celebrating Easter as the Christ's Resurrection, in the history the pagan people were celebrating the awakening of the earth to life in this part of the year.
One of the more unusual Easter customs which is related to pagan people and is already little bit forgotten is Easter Monday "water splashing".
Water splashing belongs to the ceremonial customs mainly in the Slavic countries. On Easter Monday the men were splashing the girls with water. The reason for this was that the water has traditionally a purifying character. This custom should help to keep women healthy, beautiful and young all year round.
This custom can still be found mainly in northeastern Moravia, locally in Wallachia, and in Silesia. It was as well much more common in Slovakia, Hungary and Poland.