AMCON Made Containerized Solution
AMCON Made Containerized Solution:
Did you know AMCON now supplies complete dewatering package in a containerized solution?
The advantage of having a containerized solution is that it includes all the necessaries and it simply saves spaces
All you need to do is to connect the pipes and electricity and that's it!!!
Installation is very simple and it requires only half day work.
Please feel free to inquire AMCON Europe for further information.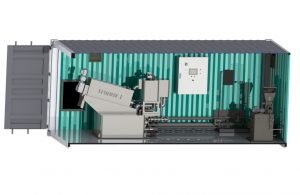 Sharjah Municipality Visit to AMCON Europe
Recently 6 delegates from Sharjah Municipality have visited AMCON Europe together with INVENT UAE who is our distributor of UAE, Oman and Saudi Arabia.
AMCON Europe met Sharjah Municipality during WEX Global Conference Summit in Istanbul, in 2015, where VOLUTE™ Dewatering Press was awarded with WEX Global Conference Innovation Award sponsored by Aqualia Company.
The customer has been using Belt Press for most of their sewage treatment plants, however, they were facing several issues such as cleaning of the belts after per operation, frequent/daily maintenance work, and frequent replacement of worn sections and all of these involves labor work.
We have presented our experience/advantages and they have visited AMCON Europe in Prague, Czech Republic.
We have conducted a full day work shop to fully understand VOLUTE™ Dewatering Press.
One of the delegates Mr. Abdul Razaq, the drainage department director has said that "We are very happy to have the opportunity to learn about VOLUTE™ Dewatering Press.
It is a very unique product and we would like to apply to our sewage treatment plants.
We also enjoyed the beautiful Prague and your hospitality. Thank you very much."
We would like to thank Sharjah Delegates for their visits and we were very happy to have them here in AMCON Europe.
We also had a great time and we are looking forward to seeing them in the near future.
This great visit was followed by a courtesy visit back to Sharjah municipality by Takaaki Yamamoto, CEO of AMCON Europe.
Commissioning of municipal WWTP Seč – VOLUTE™ Dewatering Press ES – 302
This month we successfully put into operation new machine in Pardubice country in Seč city which was bought by VS Chrudim company. It is middle size machine model ES-302. Vs Chrudim made their own construction and made the technology mobile. So they are able to dewater the sludge from different WWTP in theri area. Mr. Klboučník the technical director of VS Chrudim chose VOLUTE™ as he was convinced that this is the best technolgy for mobile dewatering porpose because of low operational cost and low maintenance requirements. The are dosing bioderradeble most environmentally friendly polymer from our sister company CHEM.ENGI.