GS-202-4 biogas pilot test in UK
VOLUTE™ Dewatering Press GS Series has scored another magnificent result at a municipal biogas plant in the United Kingdom.
After our recent pilot testing in the nearby region, customer was very happy with the outcome and we were requested to conduct a test at this biogas plant.
The sludge – a mixture of primary and secondary sludge which is known as municipal mix – goes through the Anaerobic Digester for Biogas Production. The plant also accepts imported sludge from the surroundings. VOLUTE™ was then dewatering the digestate.
The result are as follows:
| | |
| --- | --- |
| Model | GS-202-4 |
| Sludge Type | Digestate |
| Feeding Sludge Concentration | 3.10 % |
| Feeding Sludge Volume | 1.82 m3/h |
| Dewatered Sludge Cake DS Contents | 27.15 % |
| Throughput Achieved | 56.42 kg-DS/h |
| Filtrate Suspended Solids | 408 mg/l |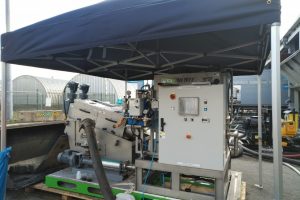 GS-202-4
AMCON Europe has several Pilot Units available to carry out testing across Europe, Middle East and Africa.
Please feel free to contact us for more details.
AMCON is exhibiting!
This year, AMCON will be exhibiting around the world! The two exhibitions that are happening in the next couple of months are:
IFAT Munich, 14th – 18th May
In just a couple of weeks you will find us at IFAT 2018 in Hall A1, stand 228, showcasing the latest development of the new and improved GS series of the VOLUTE™ Dewatering Press.
We will also have our new virtual reality technology to demonstrate what makes VOLUTE™ unique among sludge dewatering technology.
We look forward to seeing you there!

Singapore Water Week, 8th – 12th July
We will exhibit at the upcoming Singapore International Water Week 2018 (SIWW2018) to be held in Singapore at Sands Expo and Convention Center from July 8th to 12th. SIWW held once every two years and the largest water treatment exhibition in Asia.
This time we prepared a 60 square meter booth No. ''L1-K30'' and will exhibit 2 models, GS-352 and a small unit ES-051 will demonstrate sludge dewatering.
It will be great if you could visit us.
→More about SIWW 2018 Click here (linked to official website.)
Pressure sensors as a standard for all GS models
We are happy to announce that we have changed standard type of level sensor in flocculation tank for all GS Series VOLUTE™ Dewatering Presses.
Electrodes we used until now were very durable but sometimes caused sensing issues for example when sludge was foaming and the foam got into sensor´s head. Therefore we embarked on a year long search for alternatives to this switch with the aim to find a more convenient, precise & durable measuring device.
From various ways of measuring and various makers we have finally decided that for our purposes the best option is the pressure level sensor from IFM.
Note that due to different way of establishing the sludge level, compare to electrodes, the sensor has been relocated to the bottom of the tank.
We truly believe this small change will bring you additional convenience for your sludge dewatering.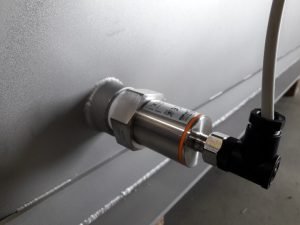 Pressure sensor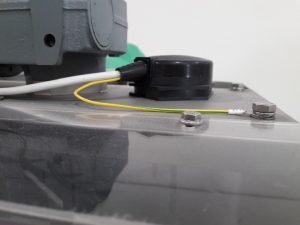 Pressure sensor
Boy's day in Japan
Boy's Day is a Japanese national holiday which takes place annually on May 5th.
The purpose of Boy's Day is to celebrate children's happiness and to respect their personalities.
The day was originally called "Tango no Sekku", or Boy's Festival. On this day, families with boys raise 'koi-nobori', or carp-shaped streamers outside the house, wishing them success in their lives in Japan. They sometimes also display Kabuto (ornamental helmets) or samurai dolls at home, because they are believed to be symbols of strength and vitality.
This custom in Japan is not so well known in other countries and we are happy to be able to convey some of Japanese culture on this newsletter.
Girl's Day is celebrated on a separate day.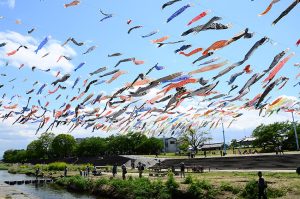 Koi-nobori