New Product VOLUTE™ Dewatering Press GS series Operational results
AMCON Europe s.r.o. is proud to introduce the operation result of GS series which will be offered from 1st April 2017. The design concept of GS series is to pursue "treatment capacity ・ operability ・ design". It has been confirmed to improve treatment performance by 50%, 360kg-DS/h(TS1% Activates Sludge) with the biggest model, by improving certain aspects of conventional ES-Series and using parts which have high-functioning.
Now, long-term pilot operation has been carrying out in a sewage plant. It has been dewatering mixed raw sludge in this operation, realizing 69.1% of moisture content stably.
The final report will be announced to you after compiling all that data. The catalogue of new VOLUTE™ GS series will be available from 1st April 2017. Should you have any question or concern, please contact your Key account manager or our offices on +420 211 150 125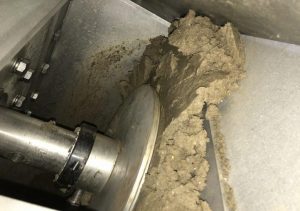 【Operation Result】
Type of Plant

Sewage Plant

Treatment Process

Standard activated sludge method

Sludge type

Mixed WAS+raw sludge

Sludge Concentration

2.0 ~ 4.0 %

Moisture Content

69.1 %

Polymer adding rate against DS

0.6 %
Philippines exhibition 2017
Our company has business in the Philippines since 2012. We have started business with Ministry of Foreign Affairs of Japan's
extension services and installed dewatering press VOLUTE™ at Cebu city. After that we have been installing our dewatering press
VOLUTE™ at sewage plants and industrial effluent plants.
This time we will introduce our business at Water Philippines and our new product.
Please come and visit us.
Period: 22,23,24 March 2017
Place: SMX Convention Center
Booth: F118
Exhibition equipment: GS-132
http://www.waterphilippinesexpo.com/