Application of Inspection port
In this month's issue we would like to let you all know about the inspection ports. At various points throughout the dewatering zone on the cylinder we have made significant changes to the assembly. There are two part fixed rings incorporated to the design. The way these have been developed allows us to open the and remove part of the fixed thus allowing us to see inside the cylinder and assess the condition of the screw
Please have a look at the following pictures.
The part marked in red circle in the photo above is half fixed ring and inspection port. Half fixed rings are put in left picture (normal state) and removed in right one.
The purpose of attachment of half fixed ring is to allow us to assess the condition of the screw without actually having to strip the unit down.
Another benefit of this is if the unit has been overloaded and become clogged, we can actually open the inspection and remove the excess sludge still inside the cylinder
In case that clogging happens because of changing of sludge concentration, it is possible to scrape sludge stuck to screw and splash water on hardened sludge through the inspection port by removing half fixed ring. The scraper for removing sludge is attached tool. (this is called "MITSUHARU", the name of inventor of scraper)
Since half fixed ring was introduced in VOLUTE™, many users have said that the operation has become easier. We are glad they were happy with that.
If these fixed rings are not incorporated in VOLUTE™ installed in your plant, it is possible to attach half fixed rings in next replacement of cylinder. So if you want, please don't hesitate to contact us.
My Business Trip Of After Service."Philippines"
Amcon's engineer traveled abroad for business for the first time.
This is an essay of his trip.
A few weeks ago, I visited Philippines on a business trip. It was my first business trip abroad. I was seriously worried if I would get the correct flight or not.
"What would I do if I were to reach New York!"
But everything was OK. And I arrived safely at Ninoy Aquino International Airport in Philippines.
On the working site, I was able to complete my mission to replace the component without any problems! Thank you to the workers of the cooperative company.
The Filipino people were very welcoming and kind, this allowed me to settle down and do my work in a relaxed manner even though it was our first meeting.
While touring in the client's facility, I asked them.
" Are those mango trees?"
Then, the clients allowed me to pick them as souvenir. I'm grateful for it.
In Philippines, the traditional foods, like Adobo, Sisig and so on, were also great. These were very delicious and suitable to drinking alcohol. Above all, beer was much more reasonable than Japanese one.
I had been so attracted by this 5‐day in Philippines. I hope to visit on private too next time.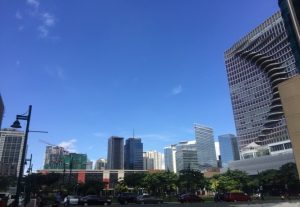 Other case studies Click here
Inquiries about VOLUTE™ Dewatering Press Click here