VOLUTE™ starts moving at Petroleum mining field
AMCON recently succeeded in the commissioning at Petroleum mining site in Japan. The customer is planning to establish a wastewater treatment technology of their own for oil field overseas, and since there were no similar installation in domestic Japan, we have tested with our ES-131 pilot unit.
Sludge was DAF sludge added with polyferric sulfate and polymer.
Customer was very satisfied with the test results and took the decision to install VOLUTE™ Dewatering Press.
Please take a close look at the results as follows:
Model

:

ES-131

Sludge type

:

DAF

Total solid concentration

:

1.81%

Inlet sludge volume

:

1.2m

3

/h

Throughput

:

21.6 kg-DS/h

DS content

25 %

Solids capture rate

:

85.8 %

SEWAGE WORKS EXIBITION '17 TOKYO
AMCON INC. is pleased to announce its genuine VOLUTE™ technology will be exhibited at Sewage Works Exhibition in Japan from August 1 ~ 4, 2017.
Our New VOLUTE™ Dewatering Press, GS model will be exhibited. Moreover, the result of demonstration experiment of high efficiency type dewatering press, which AMCON collaborated with the Japan Sewerage Works Agency last year, will be presented on the panel. Please visit our stand to see.
Date:01/08 (Tue.) – 04/08 (Fri.). 2017
Place: Tokyo Big Sight
Stand:East Hall 5-432
Equipment:New VOLUTE™ GS Series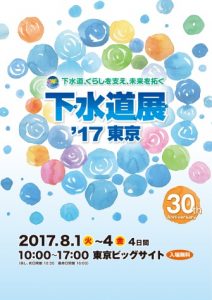 SEWAGE WORKS EXIBITION '17 TOKYO Click here
Catalogue of New VOLUTE™ GS Series
More about the VOLUTE™ Click here