New Application for VOLUTE™ Technology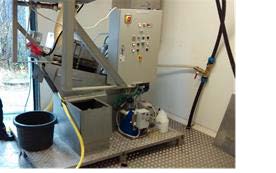 VOLUTE™ dewatering press showed its benefits again when tested to efficiently dewater raw waste water (remnants of fish food and fecal waste) from fish farming. AMCON was requested by one of the biggest Norwegian salmon farming company to conclude a pilot testing in their premises. This company is considering a new dewatering step to fulfill new environmental requirements for outlet water quality. The testing went very well and VOLUTE™ achieved 36.5 % cake dryness and 90.1 % of capture rate.
Pilot Test for AGC Flat Glass Oloví (Czech Republic)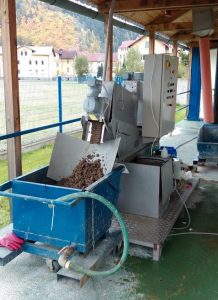 During October AMCON provided a pilot test for AGC Flat Glass Czech in Oloví. They produce the fireproof sandwich glass solution. During the process they add a lot of silicates into the process water and this water has to be treated in their MBR plant together with municipal sludge.
They have a lot of issues with the silicates content in the outlet water after the treatment and also high costs for the sludge disposal. Prior to testing they did not dewater the sludge at all and were looking for an effective dewatering solution to reduce disposal costs and way how to reduce silicates in the outlet water.
VOLUTE™ reached very good and satisfying results.
The main aim for the test was to improve the capture rate of silicates, penalties are applied if the silicates are too high. VOLUTE™ was able to achieve capture rate of 98% (6110 mg/L-inlet to 122 mg/L-filtrate outlet) of silicates, which, keeps the client well within their consent limits. This is a very good result for the customer.
AGC Flat Glass Oloví ordered after the test.
Your Friends in AMCON – Vol. 8-
We feel that most of you have contact with very restricted staff of AMCON. Thus, we would like to launch series of article dedicated to and focusing on your further understanding on AMCON. As the first step, here's the introduction of your "New Friends in AMCON".
Profile 1:
Name: Vlastimil Cimpa (Production Manager)
Gender: Male
Hometown: Prague, Czech Republic
Previous Job: Junior Production Manager (AE)
Favorite model: EC-201-SA-CE
Favorite Pastime: Mountain Biking, Snowboarding, Drinking beer, Listening to music
Favorite Destination ever visited on duty: Japan and China
Favorite Sludge Treatment System to commission: Primary and Waste Activated sludge
Comment: Hard work + Fun + Appreciation = AMCON
Profile 2:
Name: Jan Stejskal (Administration and finance manager)
Gender: Male
Hometown: Příbram
Previous Job: Tax and finance consulting
Favorite model: ES-354-SA-CE
Favorite Pastime: Motorbikes, skiing, music, gardening
Favorite Destination ever visited on duty: ČOV Škvorec
Favorite Sludge Treatment System to commission: Distillery spent wash
Comment: Find an opportunity and grab it