Government Project in the Philippines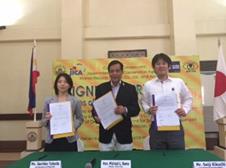 After been selected to take part in the Official Development Assistant project of low carbon society development in Cebu-City, the Philippines, AMCON INC. has conducted a one month pilot test and demonstration during January 2013.
5m3 of septage was transported daily to the city`s one and the only sewerage treatment plant which has been out of operation for decades and the septage was dewatered by VOLUTE™ Dewatering Press.
Solution for Secondary Activated Sludge(SAS)

)
VOLUTE™ Dewatering Press is a key solution to various types of sludge.
VOLUTE™ article focused on secondary activated sludge (SAS) solution has been published on UK tabloid magazine called Water and Effluent Treatment News known as the WET NEWS.